The first home super saver scheme is an initiative by the Australian government to encourage citizens to buy their own houses. The housing prices are sky-rocketing, and most young professionals and families have given up their dreams of owning a house.
Moreover, Australia is one of the most expensive countries to live in. As the scenario worsens over the years with less to no income from the construction industry, schemes like Super saver are introduced. This means that you can now buy the property you are living in and intend to live in it for at least six months.
Also Read: Family Home Guarantee
What Are The Criteria For Applying For The First Home Super Saver Scheme?
There are a few things one must check before applying for the FHSS scheme:
Firstly, you can make contributions to this scheme even when you are not eighteen years of age. However, you can request for a release of that amount only when you are above eighteen.
Second, it should be your first property in Australia. It means if you already own a house, a rental property, joint holder with a spouse or family of a property, then you cannot apply.
Third, you have never requested the FHSS scheme before. However, if family members want, they can apply for the first home super saver scheme together.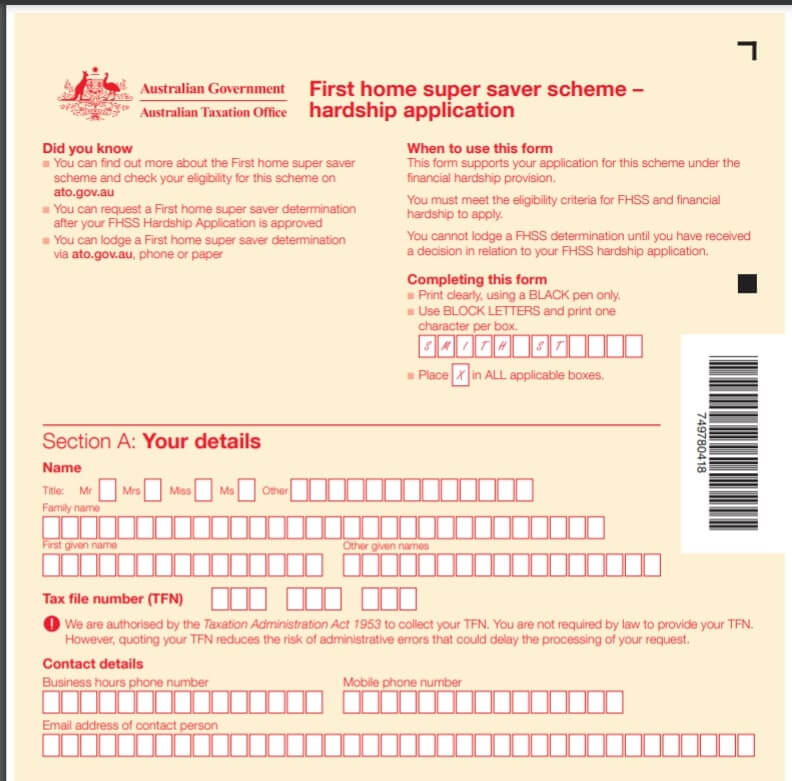 Since the government is offering this scheme on an individual basis, if all the family members, friends, and colleagues want to purchase the same property, they can.
How Can You Apply For First Time Super Saver If You Faced Financial Hardship?
If you lived or co-owned a property together with a spouse or family, you can still apply for this load. However, the condition includes facing financial hardship, which can range from bankruptcy, divorce, unemployment, illness, being affected by a natural disaster, and access to superannuation.
To apply for the First Home Super Save if you face financial hardship, you can do the following.
Apply online via your myGov account, which must be linked to your other services
If the above one is not available, fill FHSS hardship application form.
There are a few terms and conditions, however. For instance, the government recommends that you fill the form first before saving. By doing so, you are making the officials aware of your situation, and they can give you concession as they see fit.
Also Read: First Home Loan Deposit Scheme
Criteria To Meet If The Financial Hardship Application is Accepted
Once you submit the application form, you must show appropriate proof of the hardship. And once the government accepts it, you need to meet the following criteria.
Due to the financial hardship, you should not be benefitting from any interest from your old property.
You must be either eighteen years of age or older.
This should be your first time requesting for FHSS scheme amount.
How To Save In Super Saver Scheme?
To save in super, all you have to do is start saving by entering into a salary sacrifice arrangement. This you can do with the help of your employer to make contributions or make personal super contributions.
There are a few criteria that you need to meet before:
Make sure the super fund you nominated will release the money.
Check for extra charges, fees, and other insurances that may apply
Make sure that your super fund has the correct contact details and other information.
Also Read: What Does A Buyer's Agent Do?
Conclusion
In addition to the above terms, the FHSS amount will affect your tax in the year you request to release it. Moreover, they also recommend that you ask the concerned authorities if you are an ideal candidate for the financial hardship loan. By contributing to the super account, you will get benefits like tax concessions and discounts to buy your first home in Australia.
Also Read: 10 Surprising Facts That Affect The Value Of The Property